The Salubong re-enactment in my hometown in San Jose Del Monte, Bulacan.
The Salubong is a tradition believed by Catholics that the Risen Christ first and foremost appeared to His beloved Mother to confirm that He is indeed alive and triumphant over sin and death. Although this is not recorded in the scriptures, for Catholics this event makes perfect sense for who else will a son share his greatest achievement on earth but to his mother who has been with him from the day he was born.
The Salubong procession making its way in our street. In our hometown, the practice is to have the Salubong happen not in the Church patio but in a school strategically located in the middle of three streets all converging in this area. The leftmost street is where the image of the Risen Christ is processed. The Rightmost street is where the images of the Blessed Virgin and the other saints pass through.
The Salubong Party. From Top L-R: Santa Maria Salome, Santa Maria Cleofe and San Pedro. From Bottom L-R: Virgen Alegia, Santa Veronica and Santa Maria Magdalena
The Salubong Party passing by...The dawn is quiet and still, this further enhances the anticipation of witnessing the Salubong, hearing the angel sing Regina Ceoli, afterwards hearing the priest say that the Lord has risen and the veil covering the image of the Blessed Virgin is removed. Everyone is quiet compared to the goings on during the Good Friday procession. The footsteps of those attending the procession is deafening, either people are deeply in reflection on the mystery of Christ's Resurrection or one in anticipating the Salubong events or are too sleepy since it is only 4 am (just kidding)...
Our Family's Virgen Alegria being escorted to the Galilea where the Salubong rites will take place. At this point the image of the Blessed Mother is still shrouded in a black veil signifying mourning over the death of Jesus.

The Salubong as written in Pasyong Mahal:

Ang pagkasulubong ni Kristo sa kanyang Mahal na Ina
Nang malabas na sa hukay
at si Hesus ay nabuhay
ang una niyang dinalaw
ay ang Inang namamanglaw
inaliw sa kalumbayan.
Doon nga sa Senakulo
ay pinaroonan ni Kristo
at binati nang ganito,
yaong Inang nanglulumo
lumbay ay di mamagkano.
Aba, Ina kong mapalad
karamay-ramay sa hirap
tingni yaring iyong Anak,
ang loob ay nang lumuwag
sa kapighatia't sindak.
Matuwa na't lumigaya
ang Poon ko't aking Ina
yamang aking naganap na
ang pagsakop ko sa sala
sa tanang anak ni Eba.
Napawi na't nakaraan
ang unos ng kasakitan
ngayon ay ang katuwaan
Ina ko'y siyang kakamtan
nitong aking pagkabuhay.
Ang tugon ng Birhen Ina
Aba bunso ko aniya
buhay niyaring kaluluwa,
loob ko'y nagkamit saya
sa iyo ng pagkakita.
Yaong mga tinataglay
hapis at kapighatian
ng puso kong nalulumbay,
ngayo'y agad nahalinhan
nang malaking katuwaan.
Ano pa't ngayo'y nalubos
ang tuwa kong di matapos
oh! Anak kong sinta't irog,
ang sukal ng aking loob
napawi ngayong tibobos.
Ikaw nga't dili iba
ang buhay ko't aking sinta
bunso ng di ka makita,
sa loob ko'y di magbawa
ang kalumbayang lahat na.
Ngayon nga lamang naibsan
puso ko ng kalumbayan
at ngayon naliwanagan,
mata kong pinag-ulapan
ng dilim ng kasakitan.
Halos di nalulubos pa
ang tuwa nang Birheng Ina
sa kanilang pagkikita,
ay pumanaw kapagdaka
si Hesus na Anak niya.
Ang Ina'y kaya nilisan
ni Hesus at pinanawan
aaliwin niya naman,
ang madlang kapighatian
ng kaniyang mga kawal
Salubong-o-rama
Regina Ceoli
Regina coeli, laetare, alleluia: Quia quem meruisti portare, alleluia. Resurrexit sicut dixit, alleluia. Ora pro nobis Deum, alleluia.
V. Gaude et laetare, Virgo Maria, Alleluia,
R. Quia surrexit Dominus vere, alleluia.
Oremus: Deus qui per resurrectionem Filii tui, Domini nostri Iesu Christi, mundum laetificare dignatus es: praesta, quaesumus, ut per eius Genetricem Virginem Mariam, perpetuae capiamus gaudia vitae. Per eundem Christum Dominum nostrum.
R. Amen.
The chosen Angel for this year, Nicole Ng, sings the "Reyna ng Langit," a beautiful rendition of the Latin Regina Ceoli in Tagalog.
"Birhen magalak ka...ipanalangin mo kami, ipanalangin mo Kami...sa Diyos ipanalangin, Alleluia. Sapagkat siya'y muling nabuhay ayon sa Kanyang sinabi..."
View of the Salubong rite from Santa Maria Cleofe's side.
Queen of Heaven rejoice, alleluia: For He whom you merited to bear, alleluia, Has risen as He said, alleluia. Pray for us to God, alleluia.
V. Rejoice and be glad, O Virgin Mary, alleluia.
R. Because the Lord is truly risen, alleluia.
Let us pray: O God, who by the Resurrection of Thy Son, our Lord Jesus Christ, granted joy to the whole world: grant we beseech Thee, that through the intercession of the Virgin Mary, His Mother, we may lay hold of the joys of eternal life. Through the same Christ our Lord.
R. Amen.
Removing the Veil of Sorrow
Symbolically the angel removing the veil shrouding the image of the Blessed Virgin signals the acceptance of joy knowing that Christ has indeed risen. There is no longer any reason to mourn. Christ is not dead, he is Alive!
This is the highlight of the Salubong rite.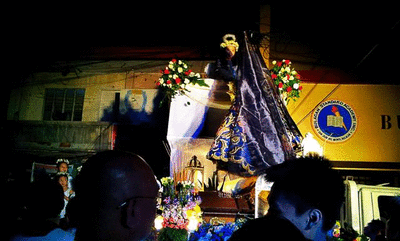 Jesus and Mary reunited once again!
Santa Maria Cleofe being led back to the Parish; Right most picture: Nicole Ng, the lead angel in this year's Salubong rite. She did a beautiful job singing the Regina Ceoli.
Sta. Maria Cleofe back at the Parish.
Sta. Maria Cleofe's primera salida in our Parish now complete.
Race to get the crystals and other decors not for "give-away" off the carroza...it's a mad frenzy.
Alleluia!
The Image of the Risen Christ.
Back at the Church for the last procession of the day--to the Altar
Easter Mass!
After the Easter mass. Top Left, the new Paschal Candle.
Can't believe all the Holy Week events are once again over. Time to go home again, but looking forward to next year.